Free Salary Calculator >>
How to dump your 9-to-5 gig when you're ready to be your own boss
Selena Dehne, JIST Publishing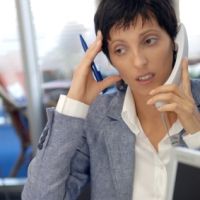 If a traditional, full-time job just isn't your thing and you're confident it's time to start earning your living independently, heed this warning before saying "sayonara" to your boss and colleagues: Your actions and attitude before you leave can make a huge impact on how others perceive you and the success you achieve working on your own.
You may think now is the time to ditch your day job and dive into self-employment, but if you haven't already started part-timing on the side you may want to delay your resignation. Kristin Cardinale, author of "The 9-to-5 Cure," says patchworkers, also known as freelancers, are more likely to get results working solo if they start out on a part-time basis while maintaining their full-time job. Cardinale couples this tip with some words of warning: "Adding freelancing to your already-overwhelming workload can be a recipe for disaster, so you should approach this scenario with caution."
To stay out of the weeds while juggling a side and full-time gig, consider Cardinale's tips:


Consider that you may need to bring your personal laptop or other equipment to work with you in order to do some of your freelance work after hours or during break periods to meet pressing deadlines.


As a preemptive move, depending on your circumstances, you may want to broach the subject with your boss to avoid a potentially sticky situation. For example, your current employer may react badly to the idea of having you work on the premises if you get caught doing so and haven't sought prior permission.


When running a business, you will need to interact with your clients during normal business hours when they, too, are at work. This can cause problems. For example, imagine if you are on the phone talking to a client and your boss walks in and decides to wait until the call ends to speak with you.


Take on work cautiously. Be sure the work is a good fit with your available resources, such as time or equipment.


Be upfront with your clients. Let your clients know you are currently working full time and may not always be readily available during normal business hours.


Separate your phone and e-mail communications from your current workplace systems. Electronic communications routed through your workplace network are subject to monitoring by the network administrator. You may want to invest in a smartphone to manage all of your communications during work hours exclusively and independent of your employer's network.


Be aware that this full-time plus part-time work arrangement may cause you to feel like you are working day and night. This lifestyle can quickly lead to burnout and ultimately cause you to call it quits, robbing you of the chance to experience living the career lifestyle of your dreams.


Cardinale has some additional advice to offer for when you're truly ready to leave your employer and commit to full-time patchworking. Here are a few of her tips:


When you know that your 9-to-5 days with the company are numbered, it is easy to find yourself feeling a bit cocky. People often go renegade in their last few days on the job and tarnish their image forevermore. Don't make this mistake. It could undermine your new business startup before it even begins.


Every contact you have at this moment is valuable to you from a business standpoint, even if you can't see the potential just yet. Walk away from your 9-to-5 job on good terms with the boss, co-workers and clients, and you can reap the networking and referral benefits. Walk away on bad terms and it can haunt you by driving down the number of available opportunities within your geographic location, industry and networking circle.


Give the appropriate notice, help train the replacement, make personal contact with each co-worker to let them know how much you enjoyed working with them and so on.


Let your clients and other important business contacts know what your plans are and how to get in touch with you in the future in another capacity. Sometimes this is best accomplished through a series of phone calls and casual conversations prior to your departure. Sometimes this communication is simply a mass mailing by e-mail or post. Only you can decide what is appropriate for your own business community.


Selena Dehne is a career writer for JIST Publishing who shares the latest occupational, career and job search information available with job seekers and career changers. She is also the author of JIST's Job Search and Career Blog (http://jistjobsearchandcareer.blogspot.com/). Follow her on Twitter at http://twitter.com/SelenaDehne.
Last Updated: 08/03/2011 - 5:44 PM
Related Articles
Article Reprints
Permission must be obtained from CareerBuilder.com to reprint any of its articles. Please send a request to
reprints@careerbuilder.com
.