Free Salary Calculator >>
A new crop of websites will let you do just that
Kaitlin Madden, CareerBuilder writer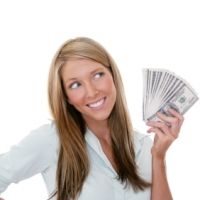 Ever wish you had a friend who was always available when you wanted to go out? Someone who always wanted to go bowling when you wanted to bowl, or who was in the mood for Chinese food every time you had a craving for veggie fried rice?
What about a personal assistant? Wouldn't it be great to have someone on-call to pick up your dry cleaning or do all your grocery shopping?
Well, consider these wishes granted and then some. A new crop of websites popping up around the Internet has begun to cater to people with an immediate need, whether it be a baby-sitter, a repair man, a professional-looking PowerPoint presentation or, yes, even a last-minute friend.
While these sites are great news for those who need a helping-hand, on the flip-side, they may be an even better resource for those looking to make a quick buck. Someone has to be that personal assistant or fried-rice friend, right? That person might as well be you.
The assignment-based nature of these sites let those who sign up as "service-providers" choose the work that best fits their talents and their schedules, making it perfect for those who need extra cash, but may not have room in their schedule for a permanent second or part-time job.
Sound like something you'd be interested in? Here's a rundown of three sites that want your help.
Elance.com
Elance.com offers contract and freelance jobs for all skill sets; assignments can be found in engineering and manufacturing, design and multimedia, writing and translation, administrative support, finance and more.
Besides just connecting contractors with jobs, the site also offers tools to help manage the workload. The E-lance "workroom" has applications for e-mail, time sheets and file-sharing. Plus, the site guarantees you will be paid for the work you do. Funds are placed in escrow by the employer before the freelance job is assigned, and released to the contractor once the job is complete.
While freelancers can browse positions and apply to any they find interesting, employers can also search the profiles of contractors on the site, so be sure your profile is professional, and highlights your skills and experience.
TaskRabbit.com
TaskRabbit is a prayer-answered for those in need of a neighborhood handyman, a temporary personal assistant or just a general "gofer." "Runners," the people who sign up to complete the tasks, can choose assignments ranging from grocery shopping, to house chores, to help with a move.
In order to become a runner, you must first get through a phone interview and a background check -- the site loudly touts the fact that all of its runners are background checked. After successfully being "hired" you can start bidding on jobs in your area. The bid process requires runners to name a price they think is an acceptable fee for the completion of the task, and the person that listed the task accepts the bid of the runner with the best offer.
The site currently operates in Boston and San Francisco, and is in the process of expanding to New York City, Chicago, Los Angeles, Austin, Atlanta, Dallas, Portland and Seattle. If you don't see your city on the list, you can suggest it on the site's homepage.
RentAFriend.com
The concept behind Rentafriend.com is simple; in essence, it's like a (paid) dating site for friends. Catering to people who are new to their respective city, those who are traveling on business and hate going to dinner alone, and people who are just sick of their current group of friends and are looking to meet new people, the site lists potential "friends" and their interests, allowing "friend-seekers" to choose the best fit.
Unlike the other two sites mentioned here, contractors can't seek out the assignments they want. Instead, the "friends-in-need" seek out the right person for the job. So, like a dating site, the better your personal profile, the more likely you are to be contacted by someone interested in hanging out with you.
Sell yourself well and you could get pad for having fun and meeting new people -- the site has a "minimum wage" of $10 an hour, and suggests that friend-seekers foot the bill for activities.
Kaitlin Madden is a writer and blogger for CareerBuilder.com and its job blog, The Work Buzz. She researches and writes about job search strategy, career management, hiring trends and workplace issues. Follow @Careerbuilder on Twitter.
Last Updated: 10/01/2011 - 5:17 PM
Article Reprints
Permission must be obtained from CareerBuilder.com to reprint any of its articles. Please send a request to
reprints@careerbuilder.com
.