Success Stories: I Thought I Was Too Old to Go Back to School
Rachel Zupek, CareerBuilder.com writer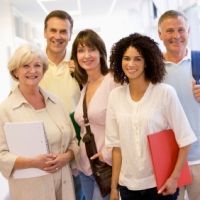 Do you think you're too old to go back to school? As the saying goes, "Never say never." Or, at the very least, take your cue from 72-year-old Gail Clark, a barber-school student at Central Carolina Community College in Sanford, N.C.
Clark, who has advanced degrees in nursing and psychology, wanted to do something different, challenging and a little bit fun.
"I wanted something a little lighter; it's fun and the atmosphere is very social," Clark says. "It was a little difficult getting back to studying and the structure of school but I think I have successfully met the challenge. It is truly a new life experience; learning something new has definitely kept me on my toes."
Going back to school, especially in a tough economy, can be highly beneficial for people of all ages. In 2008, the unemployment rate for people over 25 with an associate degree was 2 percent lower than for those with only a high school diploma, according to the Bureau of Labor Statistics. For those with a bachelor's degree or higher, the unemployment rate was 3 percent lower.
Here are the stories of seven workers who successfully went back to school at a mature age:Deb Setnes, 58
"I went back to school two years ago and hope to finish next spring. I am in the School for New Learning, which is an accelerated BA based on life and work experience, [at DePaul University in Chicago]. Working and going to school is not easy; even more so when you are older. However, I am having fun, and even though I may complain, I am still proud of what I am doing. I tell myself that if I work hard this summer then next summer should be free! I am looking forward to that. I will continue to work for at least another 10 years, but hopefully my spare time will allow me to put something back into my community."
Terry DeMeo, 61
"I spent 25 years practicing law in misery. When I was 58, I entered grad school in psychology.  I lasted one semester. When I did the math, it didn't make sense to get a degree that qualified me to work in managed care for $60 per hour. But being in school was sublime; it was a breeze for me. I loved the studies and working with others. This showed me I was on the right path. I switched to coach training and 'fast tracked' to a new career. Because of the wisdom which came from my age, I was immediately accepted into Master Coach training, and -- I'm sure because of my maturity and skills developed from many years of living -- was immediately hired as part of the training faculty. Within two years, I've established a thriving new career which I love."
Verne Wheelwright, 74
"I went back to school when I was in my 60s. [I] passed the GMAT and enrolled in an MBA program. I was not a job seeker, but had my own business exporting paper rolls. [I] took a class in studies of the future and was hooked on long-term thinking, so [I] switched my major. After receiving my MS, I enrolled in a Ph.D. program to develop a system for applying futures methods to individuals. This year, I retired my export business and am full-time writing and speaking about personal futures."
La Vaughn Kemnow, 73
"When I took my first college class I was 35. Not only was I too old, I was too burdened, too fatigued, I'd have to drive too far, I didn't have enough money, but I did it. At first I had no thought of going back to school, but felt I needed a respite from my four walls and my five kids. I started out with just one evening class, at a community college outreach program. [I] took one class each term for a couple of years, then went full time for two years -- commuting 70 miles each way, three days a week. [I took] a couple of college-level classes at the local high school the other two [days]. I transferred to the University of Oregon (same distance driving) and earned a BS from the Wallace School of Community Service and Public Affairs, with honors."
Rob Koebel, 38
"After 14 years, I returned to get my undergraduate degree from the University of Florida and finally graduated [recently]. At 38 years old, it was a very humbling experience sitting in a classroom with students half my age. So many things had changed in the classroom; I was scared to death. They were a delight to go to school with; we actually held study groups together, did class projects, etc. They seemed genuinely interested in my 'real-life' job experiences and what brought me back to finish what I started."
Erin Wombacher, 40
"When I graduated from high school, I chose to go to a trade school instead of a college. For the travel industry, this was something that many people did in the '80s. However, as I started moving up in the company, I realized the importance of having a college degree. I chose to go back to school as an adult and utilized the tuition reimbursement program my company offered.
That was 10 years ago, and the degree that I now have has opened many doors. I have been able to switch industries and pursue a career that I love. For any adults reading your article, I would strongly encourage them to take the leap and go back to school. Especially in today's job market, employers can be pickier on who they hire, their qualifications and educational background. Don't let your fear, or the excuses, prevent you from furthering your career!"
Brenda Zofrea, 50
I had a 20-year corporate career followed by a home-based business for 10 years. At 48 years old, I went back to school to get my master's in education so that I could 'become a teacher when I grow up!' After graduating, it then took one-and-a-half years of looking for a teaching job due to the economy, budget constraints on hiring and reduced enrollment in my school district. But, I just got hired to start my new career as a high school reading teacher."
Rachel Zupek is a writer and blogger for CareerBuilder.com and its job blog, The Work Buzz. She researches and writes about job search strategy, career management, hiring trends and workplace issues. Follow her on Twitter: http://twitter.com/CBwriterRZ.
Last Updated: 07/10/2009 - 11:45 PM
Article Reprints
Permission must be obtained from CareerBuilder.com to reprint any of its articles. Please send a request to
reprints@careerbuilder.com
.