6 Ways to Expand Your Job Search to a Different City
Rachel Zupek, CareerBuilder.com writer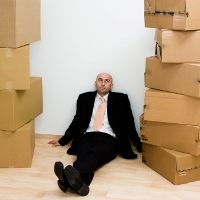 Every day, more and more people are searching for work. And every day, there are fewer and fewer jobs available -- or so it seems.
If your job search is coming up short, it might be time to start exploring other options.  Expanding the job search to another city, for example, is one thing many job seekers don't think about when trying to land a new gig. While it's not ideal to have a longer commute or to pack up and move altogether, the stark truth is that some cities just don't have the same opportunities as others.
So how do you go about landing a job in a new locale? Here are some ways to broaden your job search to a different city:
1. Target your search
The first step in broadening the scope of your job search is determining where you want to look. You won't do yourself any good if you search all jobs in every location. Try two things: First, search for the type of work you're interested in and see what cities come up first in your results. On CareerBuilder.com, for instance, if you search for "nursing," Phoenix, Dallas and Houston are listed as the cities with the most job postings for that keyword.
Or, if you know what city you'd like to work in, but are open to any line of work, search for jobs by location. If you know you want to move to Indianapolis, for example, use that as the starting point for your search. Your results will show you the industries with the most job postings, which you can narrow down yourself.
2. Expand your network
By now you know that when it comes to finding a job, it's not what you know, but who you know. But what happens when you want to relocate and you don't know anyone where you are job searching?
If you don't know anyone in the city where you are job hunting, turn to your social and professional networks for help. Clue your network in on where you are searching for work and ask anyone and everyone you know if they have any leads for you. Chances are that someone you know has friends or family in the area; or a contact of yours might have an old boss who relocated to the place you're looking. Perhaps someone you know knows someone else who can help you -- you get the picture. The point is, everyone in your network has a network of their own so don't be afraid to turn to them for help.
3. Update your résumé
The fastest way to get eliminated for job consideration in another city is by not having a local address on your résumé. List your current address as your permanent residence but also include a local address of a friend or acquaintance until you get one of your own. Don't know anyone in the area where you're moving? Rather than listing a local address, include your targeted moving date on your résumé to let employers know you are serious about making the move.
4. Utilize your cover letter
Your cover letter is the perfect place to discuss your plans to relocate. Explain why you are looking for work outside your current area, when you plan to move and any days you'll be visiting the area before relocating. Tell them you'll be in town for X amount of time and you hope you'll be able to meet with them during that period.
5. Register with a local staffing firm
Staffing firms are extremely helpful in your job search -- especially when you're conducting it from hundreds of miles away. Many recruitment agencies have offices in cities nationwide and therefore, have knowledge about hundreds of job openings you might not know about otherwise. Register with a local staffing firm and let them know the other cities where you are interested in working. Your representative will be privy to the job markets in other cities and can share your résumé with colleagues in other places.
6. Plan a visit
It's very hard to score a job from afar, so make plans to visit the area where you're relocating and set up an interview while you are there. If you can give employers a time frame of when you'll be available to meet in person, they'll be more likely to take your application seriously.
Keep in mind that before you're asked for face time, it's likely that a hiring manager will want to talk to you over the phone for an initial screening. When this happens, choose a quiet place and have a copy of your résumé handy, plus the job description and any details you can disclose about your move.
Although a long-distance job search can be trying, expanding the scope provides you with new opportunities, new contacts and will hopefully move your career in the right direction.
Rachel Zupek is a writer and blogger for CareerBuilder.com. She researches and writes about job search strategy, career management, hiring trends and workplace issues.
Last Updated: 11/03/2009 - 5:30 PM
Article Reprints
Permission must be obtained from CareerBuilder.com to reprint any of its articles. Please send a request to
reprints@careerbuilder.com
.